Frank J. Evans Charitable Foundation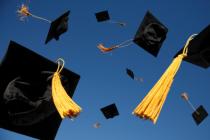 "Kindness is something you can never give away, it always returns."
– Frank Evans
The Frank J. Evans Charitable Foundation was established in 1997 in order to provide scholarships to students from WMA member manufactured home communities. Although Frank never attended college he knew the value of higher education and encouraged others to aspire. Frank was raised in Detroit Lakes, Minnesota, and served as a combat paratrooper in the 82nd and 101st Airborne units during WWII. He moved to Venezuela in 1948 and oversaw road construction for Shell Oil in the State of Zulia. He moved to Santa Cruz in 1961 where he built and operated  manufactured home communities. He served on the Santa Cruz County Mobilehome Commission for six years and was president of the Western Manufactured Housing Community Association of Santa Cruz for 10 years. He passed away on October 27, 1997 and his family established an endowment in his memory.
The Foundation extends a heartfelt thank you to WMA, its staff, members, and board of directors. Additionally, the Foundation could not have awarded $649,500.00 in scholarships without the financial and personal support of WMA's very generous members.
The Foundation is able to offer these scholarships through the generosity of those who have contributed. If you have not yet done so, please consider making a contribution. All donations are tax-deductible.
Students
The Foundation is now accepting applications for Fall of 2021. Applications must be post-marked by June 30, 2021.
Please review the following requisites to be considered for the 2021 scholarship:
Submit a completed and signed application.
Provide a copy of your high school transcript and proof of registration to a 2-year or 4-year college.
Submit a one page essay, typed, describing your reasons for attending college.
Applicant is a resident of a WMA member mobile home park.


DOWNLOAD THE 2021 FJE SCHOLARSHIP APPLICATION (PDF)
 Donate to charity
Frank J. Evans Charitable Foundation
*Please note by clicking DONATE NOW you will be redirected to a PayPal transaction page.